Ben Manning Employee Spotlight on Commitment.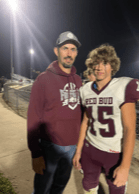 Ben Manning, Assistant Plant Manager, has been with MGX for over 18 years. He wears many hats and spends many days performing maintenance, managing production, or designing new equipment. As our resident problem solver, he is always available to answer questions or help his team find solutions.
At MGX, our values guide our actions, shaping our business. One of our core values is commitment, and Ben lives this value daily. "I am committed to being there for my team," says Ben. "I make sure to remain approachable and available; whether it's a problem at work or something going on at home, I can always find time to help."
"Ben came to MGX without knowledge of coating or converting, yet quickly learned every machine and is integral in machine design and implementation." Bill Sauer, VP of Operations.
Ben's superpower is his technical skills. He is a genius regarding the interworkings of equipment. He has developed many of our custom machines and can diagnose problems quickly.
We did a little Q&A to learn more about Ben, why he chose MGX and some fun facts about what he is like outside the office.
MGX: What stands out most for you about working at MGX?
Ben: The good atmosphere. Great people who work hard and have fun doing it.
MGX: Describe your workday. Include the good, the bad, and the amazing.
Ben: Busy! I never know what I will be doing next. Each day comes with new challenges and problems to work through. The challenges represent both the good and the bad. When I find an innovative solution, that is the amazing part of my job. It's what keeps me coming back each day.
MGX: Do you have a favorite quote?
Ben: "Tell me, and I forget, teach me, and I will remember, involve me, and I will learn." Benjamin Franklin
MGX: Where was the last place you traveled? What made it great?
Ben: I went on vacation with my family to Wisconsin Dells. The fishing and food were fantastic, and I made great memories with my wife and boys.
MGX: Do you have a favorite charity you wish more people know about?
Ben: Any organization supporting youth sports.