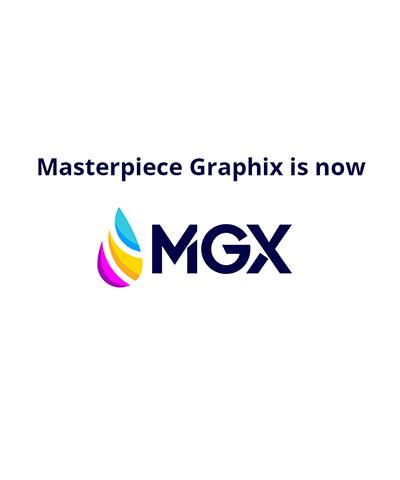 Masterpiece Graphix is now MGX
Masterpiece Graphix has always included MGX as part of our brand and we want to continue to incorporate that as part of our identity. We are proud of the impeccable reputation and brand loyalty we have built, but needed to find a way to represent the diversification of the markets we serve today.   MGX better allows us to convey our commitment to the expansion of our coating services while continuing to be the market leader and innovator in the print industry that we have always served.
The ink drop represents both the print industry and the coating services we provide in the functional coating markets.  Coatings include: rust-proof, anti-static, tamper evident, textured, printable, insulative, UV resistant, hard coat, and an insulated fire-retardant coating that reflects heat, to name a few.
Our core business is providing coating services whether it be for print or other functional purposes.  We like to say that our expertise is 'putting liquids on stuff'.  Bring your coating projects and challenges to us and our team will work as your partner to find a solution.